Salsa Invertebraxa

Salsa Invertebraxa by Mozchops, shortlisted for Best Graphic Novel by the Aurealis Awards and winner for Best Art in Comics at the 9th @$$IE AWARDS,
Signed 1st Edition copies by the author available ($35.00 per copy plus $11.00 international postage).
Copies (not signed by the author) are available via Amazon.com (USA) $29.00 plus $3.99 shipping.

Salsa Invertebraxa is a storybook unlike any other, an Alice in Wonderland for insects, set in an imaginary world as two tiny companions set out on an odyssey of discovery. With their antennae listening out for the vast armies competing for dominance on the forest floor, the two friends encounter strange new species of insects in a strange landscape. By nightfall, their adventure takes on a mysterious and foreboding turn as they attempt to steal eggs from monstrous super-predators, disturbing the fragile tranquility of this bizarre Eden.
After an incubation of 15 years, crafting over 200 paintings to complete his unique graphic novel, Mozchops catapults us into a beautiful and dangerous world.


See the Salsa Invertebraxa Gallery
More info and reviews of the book at the publishers' Official Website.
" My favorite thing right now…its incredible and so unique!"
Grant Morrison, comics writer.
There are only 100 copies left that are signed by the author/artist Mozchops, (of an already Limited Edition First Printing). Click the "Add to Cart" link above.  (Signed Limited Edition Book of Award Winning Graphic Novel Salsa Invertebraxa)
TITLE: SALSA INVERTEBRAXA
AUTHOR: Mozchops
Hardcover (First Edition)
104 pages full colour
Price: $35.00 USD
International shipping per book $11.00 USD
Total: $46.00 USD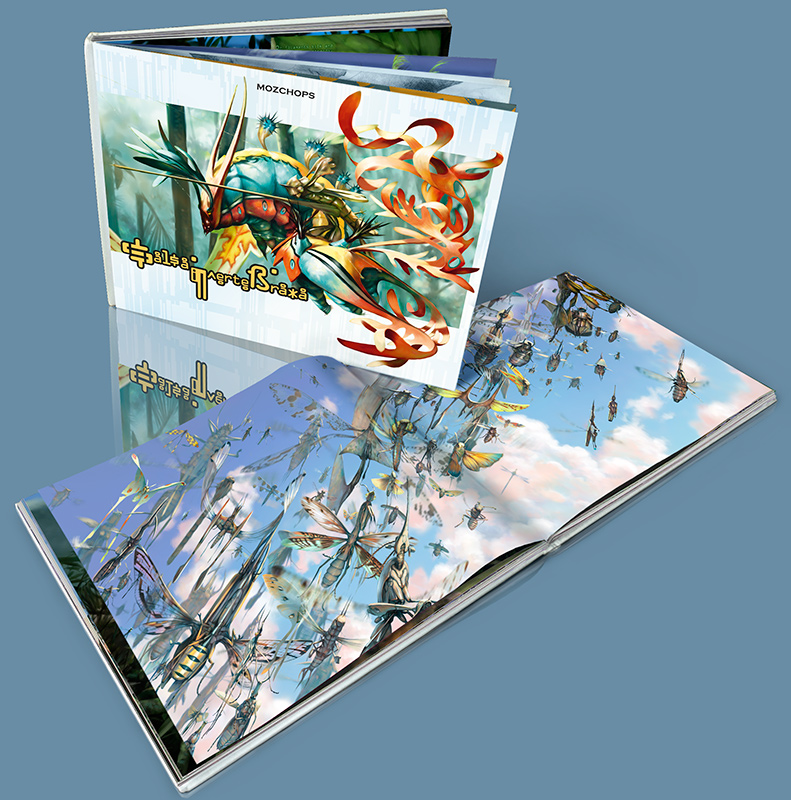 Terms and conditions of the sale are set and administered by Pecksniff Press and can be found here  – Pecksniff Press, terms and conditions
If you have any enquiries or questions please contact either Mozchops or Pecksniff Admin or email admin@pecksniffpress.com